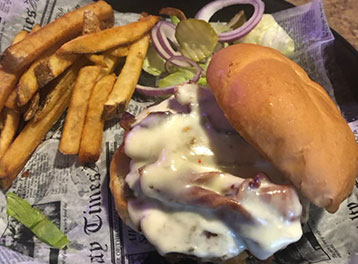 Takeout Available Noon-8 Daily
CALL NOW                VIEW MENU
Best Burgers in Door County featuring The Western, Mink River, Patty Melt, Impossible Vegetarian Burger and of course The 12 Pepper Butter Bacon Burger.

Appetizers include: Wisconsin Cheese Curds, Nachos, Chicken Wings, Peel & Eat Shrimp, Egg Rolls, and much more. Homemade Pizza, Hand dipped chicken fingers, Tacos, tempura battered shrimp, and fresh Door County Whitefish.


Nightly Features: